You may recall the action in the Federal Parliament yesterday when Liberal MP Bridget Archer rose to support a vote to allow debate on Independent MP Helen Haines' bill to establish a federal commission Integrity (sometimes called Federal ICAC, a nod to the NSW mockup).
Dr Haines described Ms Archer as "the absolute lioness of the 46th Parliament" for her actions while crossing the floor. A majority of MPs in Parliament supported the vote, but it failed on a technical level as some MPs were absent from the House of Representatives.
As Katina curtis and Nick bonyhady Prime Minister Scott Morrison has pledged a National Integrity Commission in 2018, bringing it to the last federal election, but Parliament is still awaiting the introduction of legislation by Attorney General Michaelia Cash. The government released a draft of its bills a little over a year ago and has been consulting on it since.
The model proposed by the federal government has a narrower mandate than NSW's ICAC to investigate and expose corruption and former ICAC chief the late David Ipp, QC, said in 2018 that the former Labor MP corrupt Eddie Obeid would be a free man under the Morrison government's proposal.
So what exactly is going on with the government's bill anyway? Michaelia Cash was asked about this in the Senate Estimates today.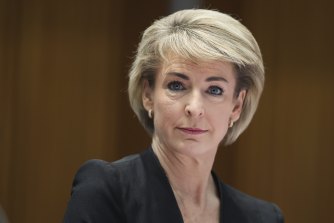 Murray Watt of the Labor Party asked Senator Cash: 'Can you confirm today that this bill to establish a national integrity commission, which you promised to do before the last election, will not be successful. not presented this year?
Senator Cash replied, "Well, it is ultimately a decision for the government." There is another week of parliamentary sitting… people seem to have conveniently forgotten that in March of last year Australia and the world… woke up to a global pandemic.
"I think we've made it clear that our priority this week is religious discrimination legislation."
She later added that Labor did not support the government's bill and "it is up to the government to decide when the legislation is introduced".
"The government's position is clear. At this point, our priority next week is the Religious Discrimination Bill, "Senator Cash said.
"At the same time, it's up to the government to decide when to introduce the bill. The point Labor seems to want to forget is that we are coming back next year and Parliament continues. "