Southeast parts
queensland
are underwater, as some areas experience the worst
weather
event in more than a decade.
Homes were flooded, towns were cut off and families were evacuated to higher ground.
In the early hours of Sunday morning, Queensland Fire and Emergency Services issued a new emergency alert for Logan, warning residents to prepare their properties ahead of expected river spikes later in the day.
"The Logan Local Disaster Management Group indicates that the Logan River at Maclean Bridge is expected to peak Sunday morning above major flood stage, similar to March 2021," they said.
It comes after
Booval North
in Ipswich, west of Brisbane, received a warning late Saturday night for "life-threatening flash flooding".
"Significant flooding is possible around Keith Street, Cornish Street, Hart Street, Egerton Street and Hanlon Street," QFES warned.
"Conditions are very dangerous and may pose a threat to life. Properties are currently being affected."
An evacuation center is open at Ipswich Exhibition Center for residents of North Booval and Bundamba, with Ipswich City Council ordering residents to 'evacuate now'.
Previously, the QFES had issued alerts for residents of
Panoramic rim
and
Noosa
because several flood warnings
Stay in place
for a range of areas in South East Queensland.
The dangerous weather has also led Queensland Police to suspend the search for a missing boater in the Brisbane River.
Debris in the river also hampered the operation, which was suspended after dark and will resume at first light.
The 70-year-old man from Queensland fell overboard from his vessel near the mouth of Breakfast Creek this afternoon. He was the only person on board.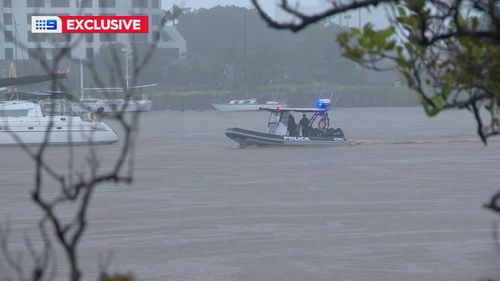 Although Brisbane Airport remains open, travelers have been advised to allow plenty of extra time to get to the airport and when checking in.
Flooding at the airport has meant that all flights are currently using the new runway.
Three more lives have been lost in the floodwaters as emergency search and rescue operations continue.
Queensland Police said a large chunk of a concrete pier, estimated to be around 40 meters long, came loose as the area was inundated with heavy rain.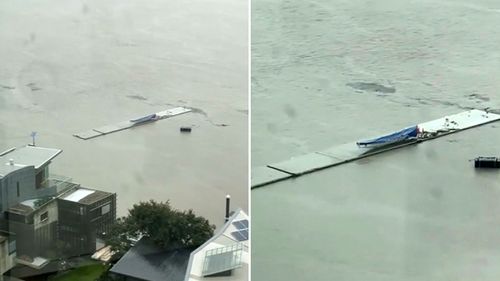 Local boatman Peter White saved the day, having steered the pontoon and tied it to a nearby rock face.
The act spared boats that were still in the Brisbane River.
Gympie breaks flood record
There is a nervous wait this evening for residents of the town of Gympie, as the Mary River continues to rise.
Emergency services are a major concern for the area, as it remains isolated and surrounded by rising floodwaters.
Dozens of evacuations are underway as the south side of Gympie remains affected by flooding.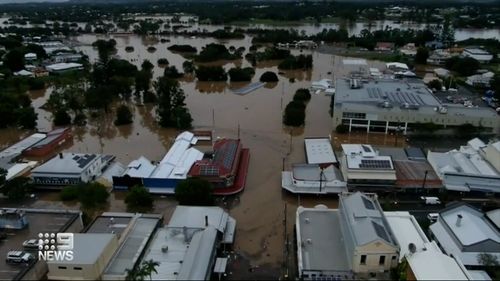 Every resident was told to evacuate or move to higher ground.
A number of residents in low-lying areas on the north side were affected and ordered to evacuate.
Major Glen Hartwig confirmed this afternoon that the city has passed a 1999 flood record.
"It's not a feat anyone in the region wanted to have," he said.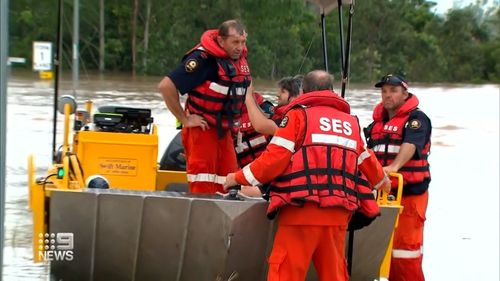 Emergency services rescued three men from floodwaters overnight, including two men who clung to a tree for hours.
Another man was pulled from the roof of the local football club's stand.
Acting Inspector Paul Algie said police recovered a car that had been submerged in water near Goomboroian this afternoon.
"Very, very tragically, a (man) was found dead inside this vehicle," he said.
Residents were evacuated by boat, while hundreds of stranded people took refuge in the local civic center overnight.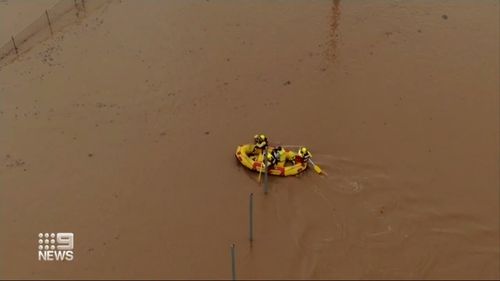 Dozens of trucks lined the Bruce Highway, loaded with food and essential supplies, but drivers were told they could face a week-long wait to get around.
"It's a big impact in the north. It's going to really hurt them," said a truck driver.
The Nightingale family were among those forced out of their homes early this morning.
"We're on the floor right now with blankets," Jon Nightingdale said.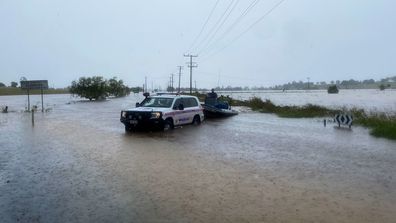 Queensland flood waters expected to overtake deadly 2011 weather event
"We are going to lose pretty much everything," said Juanita Nightingale.
"We have already lost everything under the house.
"As soon as he hits the floor, he'll take everything else anyway."
A 'much loved' volunteer has passed away
The human cost was heartbreaking for residents with four fatalities including an SES volunteer who was carried away while trying to save others.
State Emergency Service (SES) volunteer Merryl Dray died while responding to flooding in Coolana near Ipswich overnight.
Queensland Fire and Emergency Services (QFES) Commissioner Greg Leach said Ms Dray was "a highly valued member of the Lowood SES group".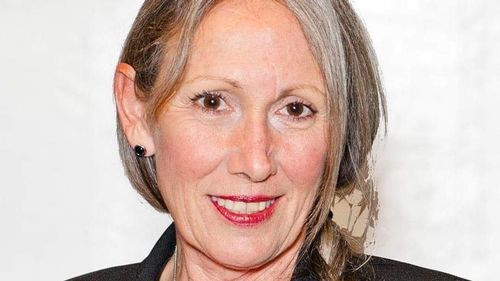 "She has volunteered over 520 hours of her time over the past four and a half years," Mr. Leach said.
"Merryl was trained in storm response, first aid and traffic control and was passionate about helping her local community."
Queensland Premier Annastacia Palaszczuk took to Twitter to express her condolences.
"My heart goes out to the family, colleagues and friends of SES volunteer Merryl Dray who tragically lost her life trying to protect her community," she said.
"I also send my sincere condolences to the family and friends of the others whose lives were lost in this extreme weather event."
The weather event has been dubbed the worst in over 20 years.
Ms Palaszczuk said the entire catchment areas of southeast Queensland were "flooded".
In some areas, more than 600 millimeters were recorded between 9 p.m. and 6 a.m. Saturday.
Residents were told it was still raining for "at least the next 24 hours".